Chargement en cours...
100% Secure Booking, Best Rates Guaranteed, Instant Confirmation




Your Comfort, Our Services
Appart'Bleu Azur, more than just a rental!
Discover the island of beauty from another angle, put your suitcases in our apartments and taste the sweetness of local life.
It is in the pretty village of Saint Florent in Haute Corse that we suggest you to stay for your holidays.
Saint Florent is a modern and authentic seaside resort, nicknamed "Little Saint Tropez".
Like many artists who visit or reside here you will fall in love with this charming city at the edge of the water.
The proximity of the paradisiacal beaches of Saleccia and theLodu, its old town, its port of fishing and pleasure make it one of the most pleasant cities of Corsica.
It is in this context that you propose to discover a new concept of residence reserved for adults .
The enclosure of the rental Appart Bleu Azur and its five apartments are reserved for adults.
It is the perfect place for a romantic getaway, a quiet holiday without children or a trip with friends.
The simplicity of booking a hotel the space of an apartment

The residence Appart Bleu Azur is ideally located, a few meters from shops and the beach and just 800 meters from the heart of Saint Florent.It is not necessary to be motorized to enjoy your stay.
As in a hotel the stay is flexible. You will enjoy a larger living space, and you will be free to choose your day of arrival and the number of days that will make up your stay (3 nights minimum make request for July August) .
In a warm, we offer for rent apartments on the ground floor with private terraces with a table for your meals and a garden. You have the choice between T1 or T2 from 26 to 32 m2, all with reversible air conditioning, flat screen TV, safe and equipped kitchen.
You will have at your disposal a relaxation area around the heated pool, an outdoor kitchen with plancha, free WI-FI and free public parking.

We have also prepared a collection of walks to guide you on the trails, magazines and books on Corsica.

To allow you to travel light, everything has been planned for your comfort: welcome products in the shower room, bed made on arrival, linens (sheets, bath towels, tea towels), household products, all is included in our rates .
A refreshment will be offered to welcome you, upon your arrival you will really feel on vacation.

From this micro region it will be easy to visit the most famous sites of Haute Corse.
In Saint Florent, from
May to October many Corsican artists perform to share with you the different musical accents of our culture.
In July, the international festival " Nights of the guitar " Patrimonio will allow you to see the best guitarists of rock, jazz, gypsy, flamenco and heads of posters of the international variety.
In August, it is on the esplanade of the citadel of Saint Florent that takes place the festival of "Porto latino" which makes us live 5 nights to the rhythm of the Salsa.
From the sandy beach of Roya you will have a nice view of the village of Saint Florent and you can access the famous footpath customs . A pedestrian walk that will allow you to explore the beautiful beaches with crystal clear waters that border the Desert Agriates . It is on this protected site that you will discover the magnificent beaches of Lodu and Saleccia.
You can also choose to see the coast by the sea by taking the sea shuttles leaving the port of Saint Florent.
We are only five kilometers from Patrimonio whose famous vineyards are famous, it will allow you to visit the cellars for a tasting of the best wines.
If your dayis long enough you can
from this micro region easily visit the most famous sites of Haute Corse.
Cap Corse still wild with its creeks, picturesque villages and Genoese towers. Nonza, with its black sand beach and its village clinging to the cliff.
Bastia, just 23 kilometers, city of art and history with its exceptional Baroque heritage.
Every Tuesday from the Tourist Office of Bastia, let yourself be guided through unusual places, with the program polyphonic songs and tasting local specialties.
And weekends on the market, mixed with the Bastians to taste the famous charcuterie Corsica and donuts at "Brocciu"
But also, Balagne with its cities Ile Rousse and Calviand especially its small villages like San Antonino or Pigna, to follow the road of the craftsmen.
Corte and the beautiful valley of the Restonica, do not leave without tasting the "Falcullele" delicious specialties Corsica.The castagniccia and its typical villages, and the pigs who walk first paths.
But I told you so much, so many other beautiful things await you ...
Come discover a region of Corsica where time goes too fast
to enjoy all that it has to offer.

Here are some of the many activities offered around the residence:
boardwalk, scuba diving, jet ski, canoeing, paragliding, canyoning, tennis, quad biking, mountain biking, hiking, horseback riding, sails, paddle.
Explore our micro-region with its picturesque villages, stroll through the alleys of St Florent, dive into the turquoise waters of the Agriates desert beaches, hike along the customs footpaths or relax around the pool.
In addition our residence is very easy to access, you will be only 23 Kms from the port of Bastia or 35 kms from Bastia / Poretta airport.
Whether you prefer a sporting holiday or you are rather adept at the "idleness"
the Appart'Bleu Azur will meet your expectations.

Availability
Available
Not available
Unauthorized arrival
Rentals
Studio
from 85
€
See Details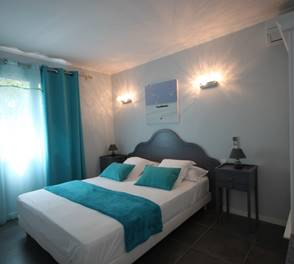 T2 Jardin
from 95
€
See Details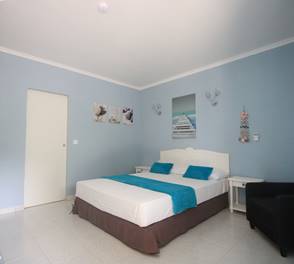 T2 Supérieur Vue Mer
from 105
€
See Details